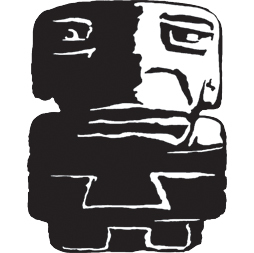 As summer envelopes us in its muggy embrace, I, the Enigmatic Icon, come to deliver you auspicious news. What's that? No, I haven't finally hunted down the interlopers to my island who stole the crown of golden vines from off my stony brow. Or gotten to the bottom of who's been spreading rumors about my love life, but that's a whole other deposit of igneous material, if you catch my drift. No, today I bring you tidings of my employer, Stone Skin Press–they have been busy since last time I checked in here.
The "Stone Skin on the Rocks" column has proven popular, with new authors guest-blogging each week to recommend a particular beverage to pair with their fiction. The heat does make a person (or golem-like construct) thirsty:
Ed Greenwood and Maurice Broaddus contributed drinks that were both a little sweet and a little sour for their column that paired drinks with stories from The New Hero Volume 1.
Jesse Bullington talked rum, in particular it's link to Vodou and his story in The New Hero Volume 2.
Dmetri Kakmi took out the sour but kept the sweet for his story in The New Gothic.
Finally, S.J. Chambers provided a suggestion that is every bit as terrifying as her story in the same anthology.
Speaking of The New Gothic, our anthology of all things dark and creepy, the book continues to earn rave reviews:
In a write-up at his blog, J.T. Glover says, in part, "If you like Gothic, if you like horror, or if you like the Weird, there's something for you in this well-edited collection of stories. Kudos to the editor for putting together such a good book, and kudos to Stone Skin Press for making it an attractive book. So many paperbacks are cheaply made, and it's a pleasure to hold something in your hand that feels durable, looks good, and will stand up to the rereading it deserve."
And over at Innsmouth Free Press, K.L. Pereira also gives it a glowing review, saying in part, "What marks this anthology as one to watch is indeed its focus on fear and how each plays with this and other very human emotions to highlight the concept of Gothic as pervasive, regardless of creepy mansion or madwoman in the attic."
Cold drinks and hot reviews–it doesn't get much better than that. We've got some brand new stuff coming out in the days to come, so be sure to follow our Twitter, Facebook, and Google+ pages for up to the minute updates, and of course there's also the main Stone Skin site.
I'll be back in August, and until then do as I do, and watch out for chisels.